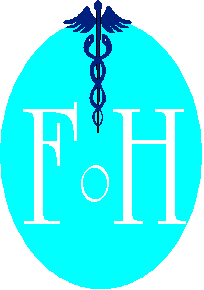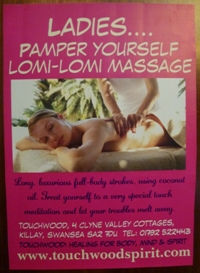 Ladies, give yourself a treat!
Lomi Lomi
Hawaiian Massage
Lomi Lomi is very special.
This could be the best gift that you ever give to yourself!
Testimonials about Lomi Lomi at Touchwood, Swansea:' It felt as if I could have been you doing it to me, doing what I would have loved done for myself' L Swansea. 'I definitely recommend this, my shoulders feel really relaxed, not tense' GS Gowerton. 'Beautiful, absolutely wonderful. It was seamless' HG Swansea. 'I don't think any other full-body massage is like this. This really is 'joined -up', other massages just do bits at a time.' Killay. 'I felt blissful but energised afterwards, and that feeling lasted right through the rest of the day!' Swansea. 'It was a very special space that we shared, I felt that both you and I were very present for each other. It was like a dance between us, who is the giver, who is the receiver?' L, Killay. 'I feel wonderful after that! I saw lots of images including a Polynesian guy with a beautiful Lomi Lomi feel to him and I saw a straight spine with the words 'you can now stand straight' GD Bridgend. 'My joints are moving better especially the right leg and knee' MD, Neath. 'My inner-self is more calm and I'm feeling more relaxed' Neath. 'This is so really relaxing. Different to other full-body massages I've had, it was all-inclusive' L Killay.
What is Lomi Lomi massage?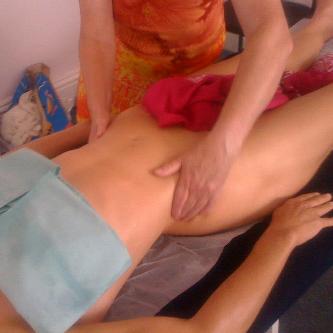 Lomi Lomi is a style of full-body massage originating in Hawaii. Also known as 'loving hands' massage, its gentle power of touch is amazing. I will use long, luxurious strokes over your whole body, using warm coconut oil. This is bodywork in its most blissful, blessed form. The slow, smooth, strokes caress almost every part of you within a caring, kind and sacred space, leaving you feeling fabulous.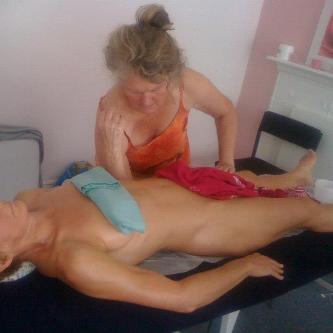 Your body is beautiful and amazing. Let your mind & body enjoy the beautiful sensations of the sensuous strokes as my hands & forearms glide over your skin in maximum touch-contact. You will find that I use both of my arms & hands in seamless moves in such intriguing ways that it can feel as if more than one person is tending you!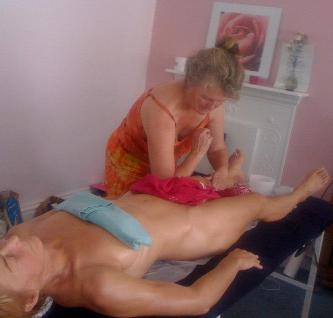 Part of Hawaiian Huna wisdom, during Lomi Lomi you will be prayerfully held in a field of mana (enhanced power, energy) that encourages healing at all levels. Your body knows how to help and heal itself. This is a most blissful way of being 'in the space' that allows change to happen easily and naturally. You are held in a secure, allowing, sacred space full of the loving kindess of aloha. Relaxing deeply, whilst inhaling the rich coconut fragrance, we hope to liberate in your mind & spirit the special atmosphere of the wisdom of the Hawaiian islands and their endemic healing magic.
Sensational. Is this heaven? Only feeling it can you believe it!
'I highly recommend this relaxing and invigorating massage , give it a try it's worth it. Great gift to someone special , thanks Carrie ' Sue Watson Llanmadoc.
What happens in a session?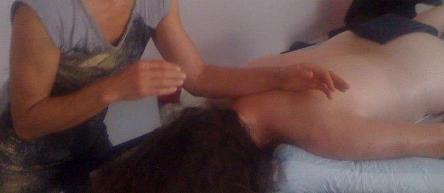 After you have let me know what you wish from the session and given an overview of relevant history, you will get completely undressed and, wearing a sarong, lie on the couch. I'll return to the room and lay the sarong completely over your body, then start to greet each limb in turn, providing cushions to support the knees or open your shoulders. By then I'll have already built the mana and be holding us both in sacred space: an allowing, supported state rather than an active, intentional 'doingness'.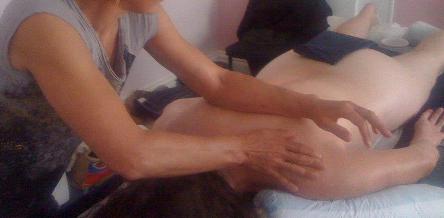 You'll be laying on your tummy to start with and I'll provide a loin cloth, before very gently and slowly removing the sarong.
Then, using warmed, fragrant coconut oil I'll make kind contact with your back and start the long, smooth, flowing, caressing strokes that are found only in Lomi Lomi massage.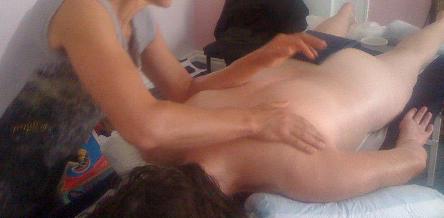 Lomi Lomi has been said to be like a gorgeous 'full body hug' as I use maximum skin-to-skin contact from the top of your neck to the tips of your toes. You become lost in pure sensation as you enter a meditative state where your cares just melt away in the embrace of loving kindness.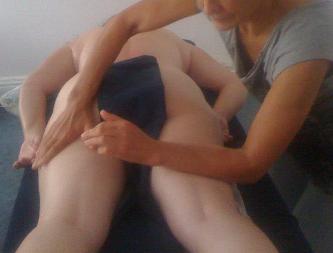 In that warm, soothed, calm and relaxed state, your body, mind and emotions are fully supported and enabled to make any changes that they wish. There is no strong set intention, instead there is the opening to the beauty of all potentials and possibilities.
Besides holding the prayerful space and inviting in mana, I work with aumakua (ancestors or guides). My helper often guides me to new moves as part of the treatment. Sometimes I may make sounds, chanting and toning. These happen spontaneously as I am guided to vocalise. I hope you enjoy this if it happens, like CT who loved it, saying 'no-one's ever serenaded my right buttock before!'.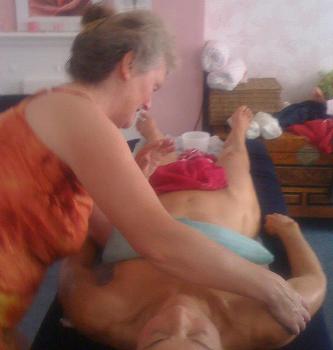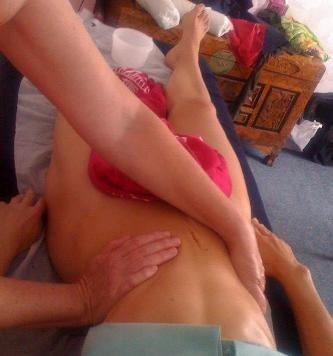 After a time you will turn over onto your back, and I'll give you a breast cover (if wanted) as well as the loincloth. Now your front and tummy can experience the gloriously smooth sweeping stokes.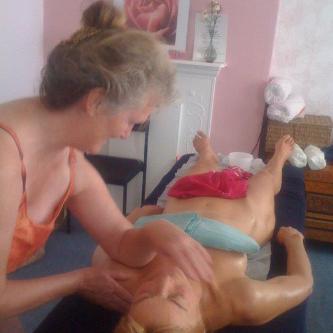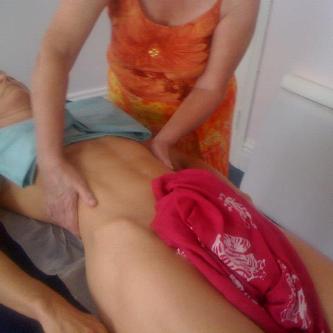 We will work again with the legs, feet, arms and hands, and also be able to give special attention to across the front of the shoulders and your wonderful tummy area.
Your neck & face will also enjoy the pleasure of being pampered.
It is difficult to show the wondrous nature of Lomi Lomi through these photos, so please look on Youtube to see how wonderful this form of massage is...it feels good just to watch! Here's a Youtube search that I did.
We may also work with the Ha-breath, spending some time on rapid breathing rather like the rebirthing breathwork technique. This is useful not only to quickly reach an altered state of consciousness, but also to facilitate moving through what may have been blocking us.
So this isn't a deep massage?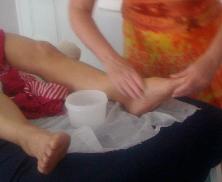 You're basically right, compared with other types of massage, Lomi Lomi works at less depth. But look again at some photos to see that there are some stronger moves, when I use my elbow to scoop around the shoulder blades, for example, and using the bony part of my forearm rather than the flesh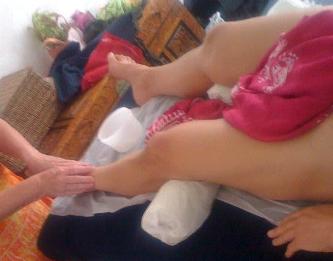 y part.
You prefer a deeper stimulating massage? Moves do not have to go deep to have the desired effect, as a Bowen practitioner I see that time and time again. However, let me know your wishes and I can use deeper moves with you, including the bone-washing technique found in Lomi Lomi practice. But even bone washing doesn't have to go deep and hurt! There's another benefit of not having to go deep to get an effect. The beautifully gentle moves of Lomi Lomi can be more safely used in frail or fragile people. For example, I have clients with fibromyalgia that find they react badly to other massages, and feel quite poorly afterwards as the body repairs itself, yet feel good during and after a Lomi Lomi session.
What good does Lomi Lomi do as a massage?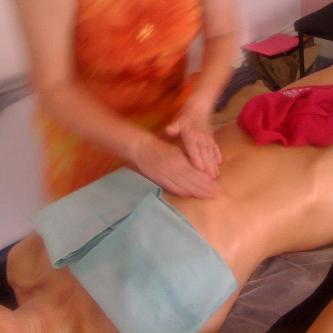 Let's invite other people to answer. Here's some of the 'wishlists' that receivers have brought to a session, and that Lomi Lomi has addressed. I wish to: relax in body & mind; be cheered up; invigorated; have the stress taken from my muscles; not be depleted; to be in my body; relaxed and soothed; help my neck; time for me; release tension; relax and soften my hard and tense muscles; revitalisation!; to get back to being myself; get healing and relaxation; be in a nice relaxing meditative state; to be embodied; to completely let go and open; to turn my mind off; me-time; for enhanced mental, emotional and physical wellbeing; to get out of my head; refreshed and uplifted; to get things happening; for blockages to be released; my body really needs to get the chi flowing; opportunity to really feel my body, to feel the touch and the flow; tension in my temples; to calm my mind; release tension and pain.
How long is the massage, and what is the cost, please?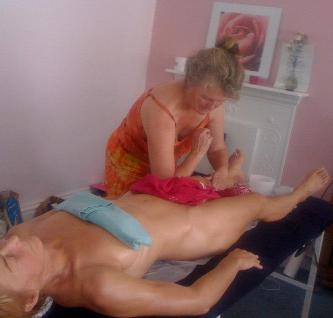 I offer a range of prices, depending on the time involved. 'Usually' a massage fits into a one-hour session or so, with 40 minutes of actual massage on the couch.
I treat Lomi Lomi clients a little differently, as personally I never want to move after a session! That's why I offer 'cwtch' time: after the massage you stay snuggled in blankets on the couch for as long as you want, from 5 minutes to 30 minutes. You can choose, say, 10 minutes then decide to stay longer when I come to check on you!
The cost for 40 minutes of actual Lomi Lomi is £35.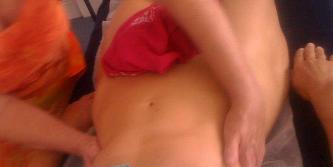 I like to offer longer sessions, just because that's what I like to receive myself, so for one hour of massage it is £45. And yes, of course you can stay and rest afterwards, so allow a 2-hour appointment for these sessions. One hour of Lomi Lomi is a very special gift to yourself.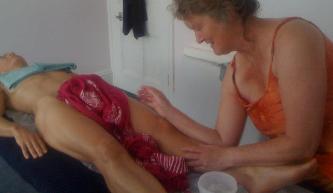 Want more? I can understand that! How about 1 hour 20 minutes of Lomi Lomi massage for £55? That's not expensive...it's priceless! And there are places where you can spend that on just a 40 minute massage. So the choice is up to you.
Is there anything I should bring, or know beforehand?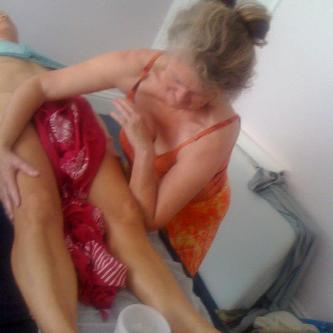 Just bring your beautiful body. Perhaps a small bottle of water to sip after leaving.
Allow enough time, eg my 40 minutes of massage will be at least an hour's session....more on the first session when we complete a case history. ...And you may choose up to 30 minutes relaxed time afterwards cwtched up on the couch and revelling in the relaxed sensations of your body & mind, so allow one and a half hours here for your 40 minute massage.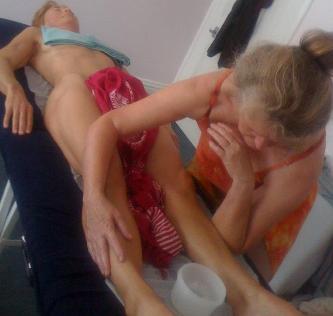 I usually massage in peace and quiet. Silence has its own health benefits. If you prefer music, that's fine.... just bring along your favourite, most relaxing music on an MP3 player (or similar) with earplugs and you'll have just what you want!
One added benefit is that later, when listening to the music, it will be a lovely reminder not only to you, but also to your subconscious, and you are likely to feel more relaxed and at ease as your body is reminded of when you last heard those melodies.
Oh and please turn off your mobile phone either as you arrive or before lying on the couch. Thank you.
What should I wear?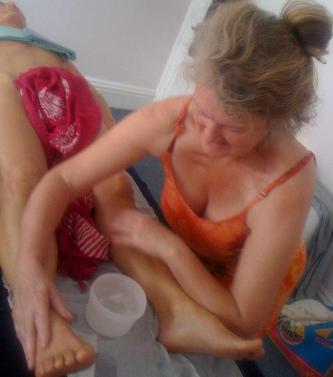 Good question! Choose loose clothing that is easy for you to undress and re-dress. Also, wear nothing special. Although you will have tissues to wipe away excess coconut oil, you may still end up with some oiliness on your clothes. Whilst it should wash out in a hottish wash, we don't want to risk difficult stains on your delicate and special clothes.
It is easiest if you do not wear jewellery including ear-rings and other piercings, or you can remove them here. We can work around what is not removable.
Please be responsible for removing your contact lenses before laying on the couch.
And put a good plaster on any veruccas.
I'm concerned about feeling vulnerable.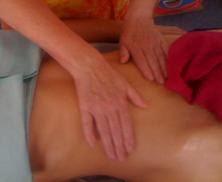 I always do everything that I can to make you feel safe and supported. If there is ever anything more that I can do, just ask. You will have the room to yourself whilst undressing and dressing.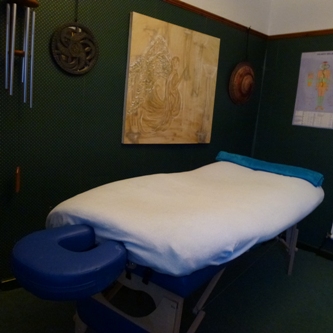 You will be draped by a sarong until a loincloth is in place, and, when laying on your back, you will have a cover for your breasts.
Some people wish to keep on their briefs, if only for the first session (or if you have your period). We can work with that if needed. Please choose briefs that have only a small amount of material at the sides, and do bring another pair to change into, as they WILL get oily!
YOU are in control at all times. If there are places on your body that you wish me to avoid, then just tell me. If there are certain moves that you do not like, again, tell me....and also tell me which moves you really do like and I'll add a few more of those in for you! Is there anything else?
Healing has never been so pleasurable!
Ring 01792 522443 or

email

now to make your appointment with Carrie at Touchwood, Killay.
Let the specialness of a Lomi Lomi Massage envelope you with magic of mana within the prayerful
application of loving hands. This could be the best gift that you ever give to yourself. Aloha Aloha.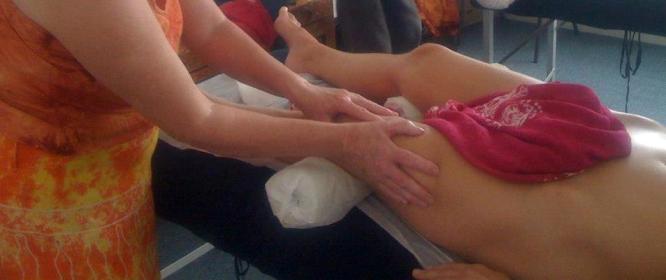 Although individual experiences vary, sometimes you may experience a strong emotional (or other) reaction.
Afterwards, be gentle with yourself, and drink plenty of water.
Please free to contact me if you need reassurance or support.
~~~~~~~~~~~~~~~~~~~~~~~~~~~~~~~~~~~~~~~~
Can you tell me more about Huna wisdom, and Aloha?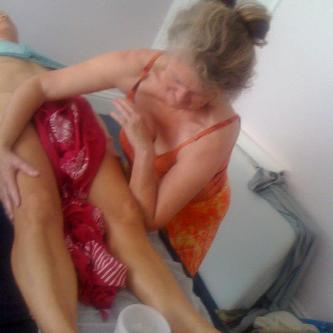 Huna is the term given to the ancient craft of Hawaiian esoteric (shamanic) knowledge, which passed down through the Kahunas or wisdom-keepers. It encompasses much knowledge of how we relate to each other and the world, of which Lomi Lomi massage is only a small part. Included is an understanding of the three parts of us, the low self, middle self and high self (which I see as sort-of like our sub-conscious, the better part of our self, and our higher self or spirit). I found that Huna books very simply explained ways of understanding and working with these selves. In fact simplicity underlies Huna teachings. Nothing, perhaps, is 'new' but instead whittled down to such simple and easy ways of looking at life that they become very practical ideas and tools to use.
Here's another example of Huna: the system of forgiveness termed ho'oponopono. There's an understanding that we see in other people what we dislike or hide (suppress, repress) in ourselves. By working through forgiveness of situations (I'm sorry, please forgive me, thank you and I love you) we not only release the issues causing unhappiness in a relationship with someone else, but also find forgiveness within us for ourselves.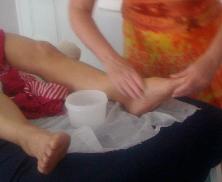 Aloha is more than a mere greeting or show of compassion, it celebrates that we all share the same breath. Yes, we all share the same breath. An acknowledgement that we are all one, that the divine breath of God is within us.
I am trained in temple style Lomi Lomi massage by Liz Cardash of True Bliss, who was taught by Harry Jim (see his book, below), from the lineage of "Auntie" Margaret Machado
Will you, too, be drawn to Huna? See if these 7 principles (King) speak to you. IKE - the world manifests according to our thoughts. KALA - the universe is limitless. MAKIA - energy flows where attention goes. MANAWA - our power is in the present moment. ALOHA - love connects us all. MANA - all power comes from within. PONO - effectiveness is the measure of truth.
I enjoyed reading these books as part of my course, perhaps you will too

WISE SECRETS OF ALOHA - Kahuna Harry Uhane Jim

HUNA: A BEGINNER'S GUIDE - Enid Hoffman

HUNA: ANCIENT
HAWAIIAN SECRETS FOR MODERN LIVING - Serge Kahili King
INSTANT HEALING - Serge Kahili King
HAWAIIAN LOMI LOMI - Nancy S. Kahalewai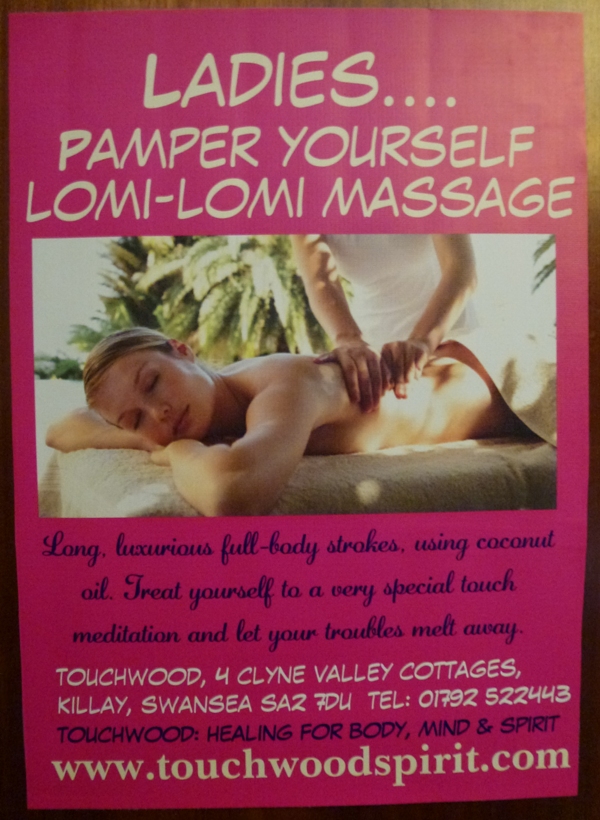 So often in my travels through the day, I'm faced to decide about what to do with the traumas -- either forgive now. Or forgive later. No third choice exist. Harry Uhane Jim
Grateful thanks to Bliss Balance, not only for the training and support, but also the images.
Data protection all information is treated in the strictest confidence. Complementary therapy does not replace medical attention, so see your doctor when needed.